Google (GOOGL) and Amazon (AMZN) have been engaged in a race over the past years. They both seem to be alone in this race, as no other real competitors have risen to challenge them. This race is of course who can create the most cohesive and advanced set of products to create the ultimate smart home.
Amazon kicked off the race in June 2015 with the Amazon Echo. This smart speaker was able to connect to mobile devices, lights, thermostats, and more making it the first truly smart speaker, as well as the first smart home product. Google entered the market of smart home products with the launch of its Google home in May 2016. Both speakers also incorporated voice assistants, Amazon using Alexa, and the Google home using Google Assistant. The speakers were the first step in creating a line of smart home products, as both companies have been expanding their smart home inventory. This article will analyze which company is winning, whether it's sustainable, and how big this industry is.
Smart Speakers
At the core of each smart home system is the speaker. Both companies have matched each other's models, with the Amazon Dot met with the Google Home Mini, the Amazon Echo met with the Google Home, and so on. The Amazon Dot and the Google Home Mini are each company's best sellers as they are the smallest and therefore the cheapest. They have all of the functionality as the parent product, but with less sound output due to their smaller size. The Google Home and Echo are also quite even in terms of services and audio. However, the Google Home Max doesn't truly have an Amazon competitor. Not classified as a subwoofer, the Google Home Max is marketed as a speaker with large base and sound output. Well, the new Amazon Echo Sub competes with it. Classified as a full subwoofer, the Echo Sub has strong base, is louder than the Google Home Max, and is cheaper. It seems as if the Echo Sub is the only clear winned when comparing similar smart speakers of the two companies.
In part because of its earlier release, the Amazon Echo has a significantly higher market share than the Google Home. Additionally, Amazon Echo had outsold Google Home in every quarter since their conception. Surprisingly, in the first quarter of 2018, Amazon sold 2.5 million Amazon Echo products, while Google sold 3.1 million Google Homes, topping Amazon for the first time. It seemed that, although Amazon had a commanding lead, they were conceding it to Google as it gained popularity. However, in the second quarter of 2018, Amazon recaptured its spot as the number one smart speaker manufacturer. They sold 500,000 more speakers than Google, reaching 3.6 million sales to Google's 3.1. Both quarters refer to American sales. This means that the emergence of a final champion has still not been proven, but can still be predicted.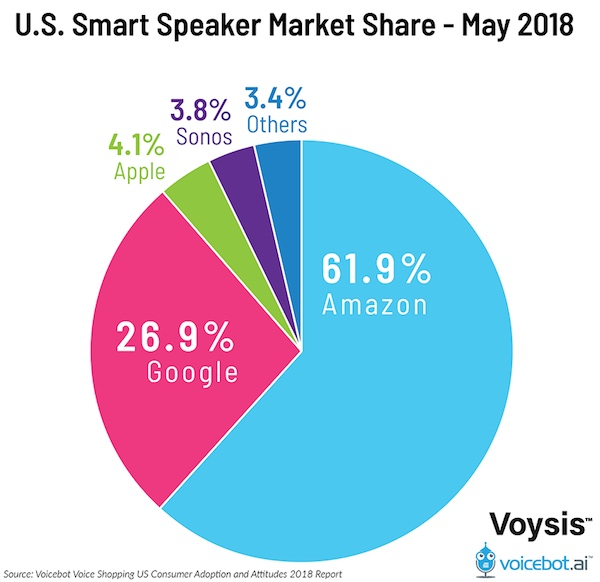 Image Source: voicebot.ai
During Christmas 2017, Amazon dropped the price of its Dot to just $29.99 in order to incentivize more buyers. In order to compete with Amazon, Google dropped the price of its Google Home Mini to match the selling price of the Dot. Both companies ended up losing money as a result of this move, as the Amazon Dot cost $34.87 on parts alone at the time. Google also lost money on their speakers, but exactly how much isn't known for sure. As for why they did it, both companies are striving to be in more homes than the other; if a customer was to buy another smart speaker, surely they would buy one compatible with their current speaker. Overall, Amazon won the Christmas season and was winning every quarter in fact, up until the first quarter of 2018.
Smart Products
In order to go with their smart speakers, both Amazon and Google have smart products to complete the smart home. Amazon recently unveiled a huge new lineup of smart products to work with their speaker. First, the Echo Auto can sit in a car and can turn off appliances with a voice command, as well as make phone calls and play music. There was a new clock released that pairs with Alexa devices to display alarms or timers. A new smart plug was also released, allowing Alexa to turn off devices using the plug with a voice command. Amazon even created a microwave that is compatible with Alexa speakers and can be controlled by them if requested. Google doesn't tend to manufacture its own Google Home products, but instead relies on third party manufacturers to do so. All of these products seem to be a massive step in trying to create the smart home.
Neither company is a stranger to acquisitions, so it isn't much of a surprise that they have both made acquisitions in order to help their smart home business. In January 2014, Google acquired Nest. This was two years the Google Home was released, but Nest has now been fully integrated into the Google Home software. With just their voice, someone can cast a live feed of security cameras, or the doorbell onto a screen through Chromecast or the Google Assistant. Voice commands also allow users to set thermostats and lock down the house with Nest products. Surprisingly, the Nest thermostat is also compatible with Amazon Echo.
Amazon has similar capabilities with Ring, acquired in March of this year. Through Amazon Echo devices, users are able to talk to people outside their home by talking to their speakers. In addition, with the Echo Show and the Echo Spot, users can receive live footage from the smart doorbells or security cameras.
Both companies have also made efforts to be compatible with a number of third party devices. Google and Amazon have made efforts to work with a number of different smart light bulbs that connect to their voice assistants and can change brightness upon command. With the Echo Auto, these light bulbs can even be turned off if the user is in their car, miles away. In addition to light bulbs, both companies are compatible with a variety of smart locks in order to be able to provide a security aspect to the smart home. The locks can also be used if the homeowner sees the plumber through their smart doorbell or security cameras, to let people into their home while they are not there. Those are the most common devices to complete the smart home, but there are many more products from smart vacuums to sprinklers that help complete the smart home.
Who Will Win
As of now, Amazon has a clear lead over Google in the smart home market, in terms of market share, lead by their Echo sales. From personal experience with both devices, I have found Google Home to be easier to work with and more effective at dealing with commands. However, the difference at this stage isn't as noticeable because both devices are quite good at completing certain tasks. This difference may become more noticeable in the future.
Even though the difference currently isn't as noticeable, Google will be the company to prevail in the smart home race. This is due, in part, to Google's further experience with software and voice assistants. They have created this experience through their Android software that they provide for an incredible amount of smartphones. In 2015, Android accounted for 81.6% of all software for smartphones, and it continues to rise: Google is dominating the mobile software market. The voice assistant is a huge factor into whether a consumer will buy the Echo or the Google Home, and because of Google's expertise they will be able to prevail over the Echo. This global domination also allows for Google to bring the Google Home to be brought to new countries faster than the Amazon Echo because it has already developed most of the necessary programs for its Android software.
Google has built a name for itself as the most reliable internet browser. This reputation is also key for Google to sell more speakers than Amazon. Brand recognition is key for any industry, and although the Echo has built a name for itself, Google as the parent company behind the Google Home gives it more of an edge. As iterated before, Google is known as the most reliable internet browser and as a voice assistant powered by Google, it is bound to draw attention and gain a reputation for itself.
Since they both have quite similar capabilities, the only true differences are the aesthetics and the voice assistant quality. Aesthetics are quite similar as well, both companies now selling their speakers as cloth covered devices, so the voice assistant difference is enough to make Google the better seller than the Amazon Echo.
Financial Impact
The smart speaker market is growing rapidly, and the leader of that market stands to benefit hugely from the growth. The smart speaker is growing by 48% every year, an astonishing number. No other piece of technology has had this rapid growth since the initial emergence of smartphones. By 2024, the market is expected to reach $30 billion of sales annually. If Google is able to retain even 30% of the market, less than what they have now, they would be making $9 billion annually in Google Home sales. Based off of Alphabet Inc.'s current third quarter revenue, this $9 billion would account for 32.4% of their current revenue. This is no small number at all, and it seems increasingly reasonable. As not many other manufacturers are coming raising up to face Amazon or Google, it seems as if maintaining a market share of 30% in quite reasonable for Google. Amazon might struggle with this because they are having difficulty adjusting to different regions and languages because of their lack of experience.
Overall, mainly because of their past voice assistant experience, Google will be able to trump Amazon in the long run and enter foreign markets easier. As a result of their smart speaker dominance, working with their smart home products, Google will be able to turn massive profits which you can take advantage of by investing. By investing in Google while they are still considered the underdog in this race that they seem to have minimal chance of losing, you are put into a position to generate large profits off of their success.
Disclosure: I/we have no positions in any stocks mentioned, and no plans to initiate any positions within the next 72 hours.
I wrote this article myself, and it expresses my own opinions. I am not receiving compensation for it (other than from Seeking Alpha). I have no business relationship with any company whose stock is mentioned in this article.
Source: https://seekingalpha.com/article/4218763-smart-home-race-winning